A further 65 people tested positive for swine flu on August 18, the Vietnamese Ministry of Health announced, bringing the total of confirmed cases in the country to 1,576.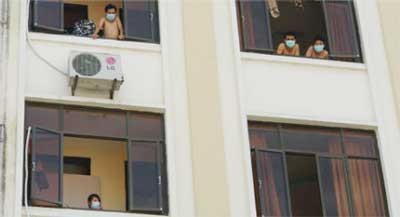 Students of the Saigon College of Art Culture and Tourism quarantined at the Farmer Association's school in Hanoi on August 18 after some of them contracted swine flu during a trip to Sa Pa and Hanoi
But most cases are mild, with many even recovering unaided, and can be treated in district medical clinics.
The Hanoi-based National Institute of Hygiene and Epidemiology confirmed following a second test that 11 more people from the group of teachers and students from the Saigon College of Art Culture and Tourism who traveled to Sa Pa recently are infected.
It is thought they contracted the disease on the way to the popular tourist haunt in the northern mountainous province of Lao Cai,.
The 122 remaining people who had tested negative for the virus arrived in Ho Chi Minh City on August 18 but have been advised to isolate themselves at home for a week.
In the city, Binh Thanh District authorities have disinfected Quoc Van- Sai Gon High School after 14 students tested positive for the virus.
The infected ones and others with flu-like symptoms have been quarantined in the school.
Another 18 students from Military District Seven and Technology Secondary Three schools have been admitted to hospitals.
The neighboring province of Binh Duong reported four workers employed at Tan A Company in the Linh Xuan export processing zone are infected.
On the same day, inspectors from the Hanoi- Department of Health paid surprise visits to some drugstores belonging to Ngoc Khanh Company and found them violating rules in selling medical masks.
They confiscated all masks without clear origins and ordered the owners to present receipts for them to the department.
Airline operators will regularly disinfect planes, check passengers' temperatures, and provide facemasks to passengers asking for them. All airline employees have been ordered to wear the masks.