As public concerns over contaminated food have been raised, Minister of Agriculture and Rural Development Cao Duc Phat asserted that the Ministry will take drastic measures to reduce pesticide residues in vegetables and tea leaves to gain consumers' trust.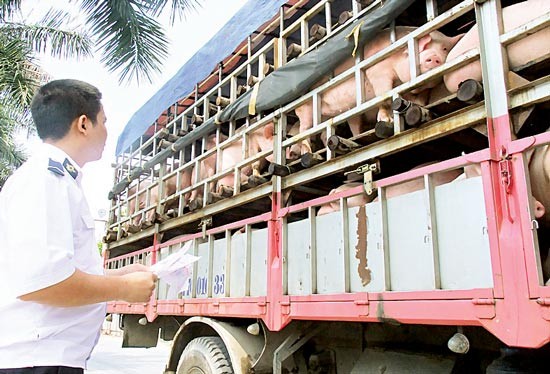 A  vet is checkign pigs at a quarantine station (Photo: SGGP)
Though after the Law of Food Safety and Hygiene takes effect, agricultural produces are managed strictly, there has still been contaminated foodstuff that caused public anxiety; especially at the end of the year when unsafe foodstuff is rampant.

Health authority in coordination with the Ministry of Health, the Ministry of Industry and Trade and the Ministry of Agriculture and Rural Development seized many unsafe foodstuff including vegetables and fruits without origin or imported from China without checking in markets.

Minister Cao Duc Phat acknowledged that the rate of vegetables with pesticide residues exceeding the allowable limit by 5-6 percent; accordingly Mr. Phat confirmed to take drastic measures to battle this matter to re-gain consumers' trust.

Minister Phat said that farmers have feed cattle with illegal substances to improve lean muscle mass and market value and so do big enterprises. He promised that in the future the Ministry will enhance supervision to tackle the problem in 2015.
He said that the Ministry will try to eliminate the abuse of illegal substance totally as the drug badly affects consumers' health.