The Department of Preventive Medicine under the Ministry of Health has warned public of streptococcus, acute diarrhea, poisoning and upward trend of diseases such as flu, measles, mumps, dengue and hand-foot-mouth during the winter-spring season of the year.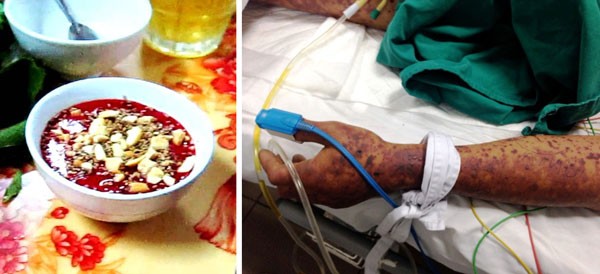 The Ministry warns of streptococcus because people eat raw swine blood budding (Photo: SGGP)
Head of the Department Dr. Tran Dac Phu said that during the winter-spring season falls on the Lunar New Year,  people consume a large quantity of cattle and poultry. Yet, the control of sales, transport and slaughter of cattle and poultry is loose.
Worse, the habit of eating swine blood budding makes the number of people infection with streptococcus skyrocket after and before Tet holiday.
Though the number of patients infected with streptococcus is not high as much as other diseases, most of them face risk of death. Medical experts said that swine streptococcus will disability and death if they do not get the treatment in time. The mortality rate is up to 7 percent.
Dangerously, patients just have high fever at the first stage, doctors easily mistake with other disease when diagnosis.
Streptococcus can occur in a person who used to have it; accordingly, people should not eat swine blood pudding or slaughter sick or dead animal.

In 2016, the country recorded the circulation of flu A (H3), A/H1N1 and flu B with the rate of 46.1 percent, 18.2 percent and 35.8 percent of total infection cases respectively. At present the country has not had flu A/H7N9 and A/H5N6 yet the ministry warned of high possibility in the winter-spring season.
Medical experts advised that the best way to prevent seasonal flu, and bird flu, streptococcus, people should not eat sick or dead cattle and waterfowl or animal with unclear origin. People should have boiled water and food.

The Department said that in 2017, the diseases will develop complicatedly due to many causes including traveling between countries, urbanization, climate change and tradition; the sector hence will tighten monitor in border crossings nationwide.