President Truong Tan Sang yesterday attended and cut the ribbon to open an updated technical center at the Heart Institute in Ho Chi Minh City.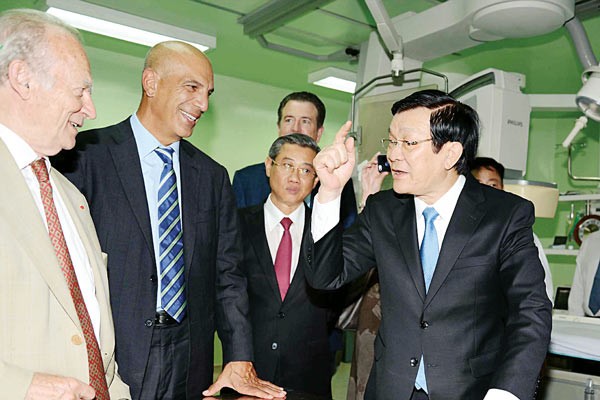 President Nguyen Tan Sang talks to French experts at the ceremony to open the modern heart center (Photo: SGGP)
After two year upgrading, the center was complete at the cost of more than VND102 billion (US$4.48 million), of which VND90 billion coming from the City's budget and VND12 billion from the institute's development investment fund.
The 18,200-sq.m center has four operation rooms, one recovery room after a surgery, two special rooms and 10 beds for post-surgery care.

Speaking at the opening ceremony, Vice-chairman of the city People's Committee Hua Ngoc Thuan said the center has modern design for technique treatment.
He said it would help reduce overloading at other heart surgery hospitals in the city as well as would improve the public's access to high-quality health services and reduce overload at cardiology facilities in southern localities.

Dr. Do Quang Huan, director of the Heart Institute said the institute has been carried out heart surgeries for 23 years, it has provided treatment and care to 2.6 million patients, including 25,000 those who received surgery.
Additionally, the institute also provided training in heart surgery to hospitals across the country, he said.
Since its establishment, the institute has transferred heart surgery techniques to over 15 hospitals nationwide and provided training to nearly 2,600 heart surgeons of over 50 hospitals in HCMC and southern provinces.

On the occasion, Chairman of the municipal People's Committee awarded certificates of merit to four medical workers who have transferred heart surgery techniques and trained their counterparts in other hospitals and set up Alain Carpentier fund.