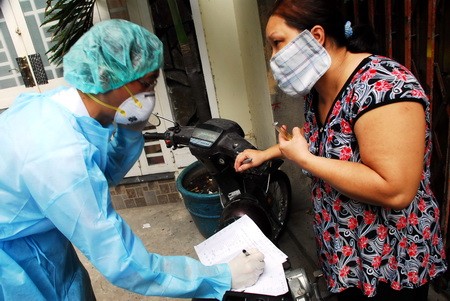 A health worker makes a list of those who contacted with the second death in District 10 (Photo: Tuoi Tre)
The Health Ministry on Oct. 9 confirmed two new deaths from the A/H1N1 flu, bringing the total fatalities from the disease in the country so far to 22.
One victim was a 36-year-old woman from the southern province of Ben Tre . She showed symptoms of the disease on Oct. 2 and was sent to hospital late on Oct. 4, but died on the morning of Oct. 5.
The second was a 19-year-old man from the northern province of Bac Giang. He came down with a cough and fever on Oct. 4, came to hospital on Oct. 5 and died on Oct. 7.
Another death of a patient from the Central Highlands province of Gia Lai has not been confirmed yet by the Ministry.
The day also saw 79 more cases of A/H1N1, increasing the total number of infections so far to 9,868.
A total of 8,808 people have been discharged from hospital, while the remainder are under treatment and in stable condition.