The number of people suffering goiter (Latin gutteria, struma), a swelling in the thyroid gland, is increasing in Vietnam, especially among residents in big cities.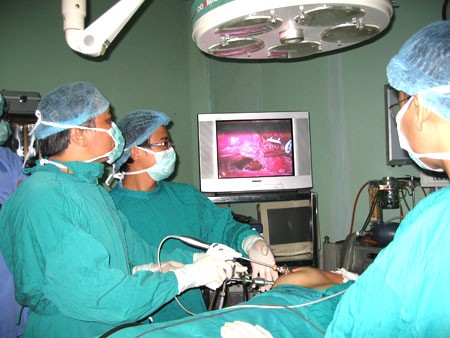 Dr. Tran Ngoc Luong of  the National Hospital of Endocrinology in Hanoi carries out an operation for a goiter patient by new technique which leaves small scar on the patient's neck
It is thought that habitants in remote districts are vulnerable to goiter which is caused by inadequate intake of dietary iodine. However, people in big cities in Vietnam are facing the disease as the struma prevention program is neglected.
Dr. Nguyen Van Tien, director of the National Hospital of Endocrinology in Hanoi, said more and more Hanoians suffered the disease although they take adequate meals. I
n his hospital, patients filled all the rooms even two patients in one bed. Half of them come from northern big cities including Hanoi, Hai Phong and Quang Ninh.
A recent survey showed only 25.6 percent of residents in Hanoi use salt with iodine while it must be over 90 percent, said Le Anh Tuan, director of Hanoi's Department of Health.

Although Hanoians use salt with iodine, only 11 percent of households used standard iodized salt. This showed that salty products and fish sausage were wrongly advertised to have much iodine and there has been lack of supervision on these products.
Dr. Tien said Vietnam announced to be successful in fighting against the disease in 2005 with the rate of households using iodized salt of over 93.2 percent. However, the goiter prevention program converted into a normal activity of the health sector.
Therefore, it received less care of the government. Some northern provinces like Hung Yen and Hai Duong have not spent on the prevention program or other provinces have cut down on expenditure. Along with that, people and relevant agencies exercised a lax behavior to the disease.