Another person suffering from a severe case of avian influenza is being treated at the National Tropical Diseases Hospital in Hanoi, the hospital announced on April 5.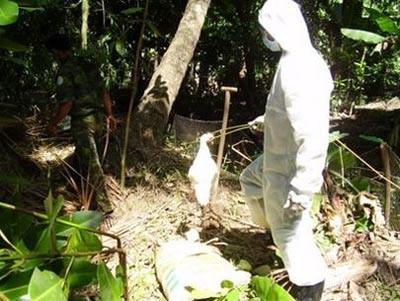 Vets will spray chemicals to disinfect the areas where have had infected bird flu patients
A 22-year-old male from the northern province of Bac Kan, the sixth bird flu case since the beginning of the year, is in serious condition and requires the use of a breathing machine, said the hospital's director Nong Quoc Chi.
The patient was transferred to the hospital from the province's General Hospital on April 3 with symptoms including a cough and high fever.
Tests conducted by the National Epidemiology Institute on April 4 showed he was positive for the bird flu virus (A/H5N1).
An investigation has revealed there were dead waterfowl in the man's neighborhood. Four other residents from the man's commune also showing bird flu symptoms have been quarantined and are also under treatment at the National Tropical Diseases Hospital.
Bird flu has claimed two lives in Vietnam so far this year.