Nhan Dan Gia Dinh Hospital in Ho Chi Minh City on June 5 confirmed the death of a 49-year-old resident from District 3 from A/H1N1 Flu Virus.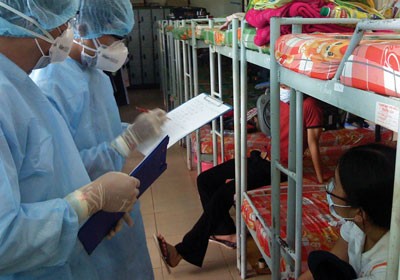 (Photo: SGGP)
The hospital said that the patient had been hospitalized with high fever and respiratory problems. He had a medical history of renal failure and cirrhosis.
After hospitalization, although doctors made concerted efforts to save him, he died due to a weak constitution and fast development of the disease.

In addition to this case, there have been many cases of patients contracting A/H1N1 virus in South Vietnam.
Doctor Hoang Lan Phuong, deputy chief of the Tropical Disease Ward of Cho Ray Hospital in HCMC said the ward is treating a 48-year-old man from the Mekong delta province of Ben Tre who is in severe condition and under a ventilator.

Nhan Dan Gia Dinh Hospital is also treating a 50-year-old man from District 3 who is suffering from A/H1N1 virus infection with breathing problems and serious lung damage.

Also, a grandchild of a dead man in the Mekong delta province of Dong Thap showed symptoms of flu due to infection from her grandfather, just five days ago. The three-year-old toddler is currently receiving treatment in Children Hospital No.1. Her test results showed positive for the virus.

Meantime, doctors at the Tropical Disease Hospital in the City have just received another patient infected with the fatal virus.

Because of these series of recent deaths from A/H1N1 in HCMC and three other areas in the North, the Ministry of Health has warned of reoccurrence of the disease. People suffering chronic diseases such as asthma, tuberculosis, heart attack and immune deficiency are vulnerable to infection, the Ministry warned.

According to a Ministry survey, in first five months there have been nearly 400,000 cases of Flu, majority of them contracting A/H1N1. As per World Health Organization announcement, there has been no discovery of gene mutation of the virus. Annually, the world records five million cases of Flu infections and 250,000 to 500,000 people die of the virus.
Dr. Tran Phu Manh Sieu, director of Preventive Medical Center in HCMC, said that although A/H1N1 is a normal seasonal flu virus, it is very dangerous for new born babies, pregnant women, elderly people and people suffering from kidney, liver failure and heart diseases.