Nine more students from Quan Toan Secondary School in the northern city of Hai Phong were hospitalized December 12 with breathing difficulties, dizziness and vomiting, allegedly caused by noxious exhaust fumes from nearby steel plants.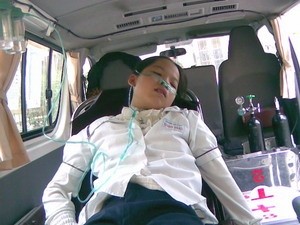 A student of Quan Toan Secondary School is hopitalized on December 12. (Photo: VNA)
Deputy head of the school Vu Thi Minh said the smell of burning plastic and tar overcame staff and students, sending nine pupils with the most serious symptoms to the General Hospital in nearby Hong Bang District, Ha Phong City. Of these, five with severe breathing difficulties and vertigo were later transferred to other healthcare facilities.

To date, more than 80 students and teachers from the school have been hospitalized since October 27.

According to residents and teachers, the main culprit is the Vietnam-Japan Steel Company, located 300 meters from the school.

In the wake of the December 12 incident, the Hai Phong Education and Training Department has decided to temporarily close the school.

Deputy Chairman of the Hai Phong City People's Committee Do Trung Thoai said on December 12 that the city will ask certain steel companies near the school to stop production until the Environment Police Department and Natural Resources and Environment Department conduct an investigation.

The city earlier set up an inspection team led by the Natural Resources and Environment Department to find the exact cause of the problem. However, over one month has passed and the team has made little progress, saying it is difficult to collect samples from the companies to test.