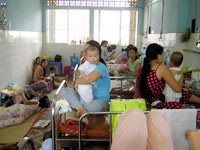 Children are treated hand-foot-mouth at Children Hospital I
Ho Chi Minh City hospitals April 12 reported an alarming rise in the number of children being diagnosed with hand-foot-and mouth disease over the past week.
The city's Children Hospital I, II and the Tropical Disease Hospital have each seen nearly 100 children recently admitted with the disease, while doctors have expressed concern that families are waiting too long to bring children for medical treatment.
Delays in treating the illness can cause complications to the nervous system while some children have required the use of breathing machines.
Dr. Nguyen Dac Tho, deputy director of the city's Preventive Health Center, said hand-foot-and mouth cases amongst toddlers and young children have skyrocketed since January with the health sector reporting 667 cases since the beginning of the year, 57 percent higher than the same period last year.