Doctors of Heart Institute in Ho Chi Minh City are currently being overloaded with around 3,000 patients annually who are waiting for their operations.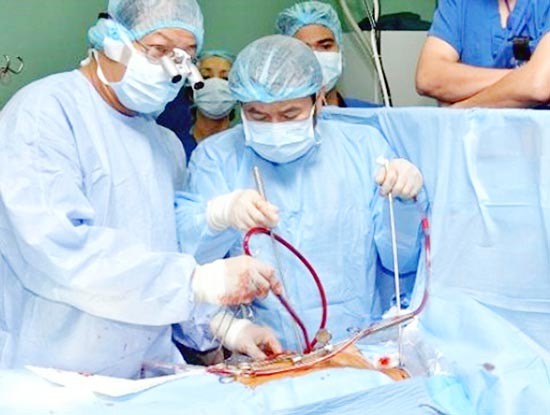 Doctors of Heart Institute are performing a heart surgery (Photo: SGGP)
Mrs. H from the central province of Phu Yen was bursting in tears, saying that her child was suffering from congenital heart disease and because of long wait for the operation, the child died of the disease.
Around 10,000 inpatients stay in the institute for their surgery. Head of the institute Dr. Nguyen Ngoc Chieu said that the number of heart disease patients has increased fourfold compared to 1998. 
77 percent of them can cover an operation charges while the remaining is expecting the assistance of benefactors.
10,000 patients are waiting for the operation, 25 percent of them are from Ho Chi Minh City while the remaining is in other provinces, he said
Dr. Nguyen Ngoc Chieu said that the institute's doctors had to carry out operations in Saturday to reduce the waiting people.
Along with this, the institute has transferred the techniques to other hospitals that have conducted around 5,000 heart surgeries. For instance, the Children Hospital No.2 has performed around 300 surgeries, the Central Hue Hospital has operated 2,000 open heart cases.
In addition, the Institute has assisted to build Tam Duc Heart Hospital with capacity of nearly 1,000 cases a year. Doctors of Tam Duc Hospital have performed 250 operations so far.
Though the Heart Institute in HCMC conducts around 1,250 operations a year, it can't meet the increasing demand. Dr. Vu Minh Phuc, chairman of Heart and Congenital Heart Disease in the city, said that the country has had around 8,000-10,000 babies with inborn heart diseases and half of them needed a surgery soon.
The Children Hospital No.1 has around 2,000 infants with congenital heart diseases waiting for an operation. Similarly, the Children Hospital No.1 also performs 6-8 operations coronary artery bypass grafting surgeries a week and 2-3 open heart operations a week.
Around 2,000 infant patients are waiting in the institute for an operation. Medical experts said that heart disease children might die during long waiting for a surgery to save their life.