More information on the harmful effect of smoking will be put on domestically-produced cigarettes beginning March 17, according to an announcement by the Ministry of Health.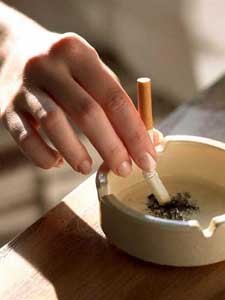 A lot of money is spent yearly on tobacco-related diseases
The warnings will consist of pictures or words covering 30 percent of the surface of the package.
Five warning messages will be used: "Smoking causes lung cancer", "Smoking harms pregnant women and children", "Smoking causes intra-cerebral hemorrhage", "Smoking causes chronic obstructive lung disease", and "Smokers will suffer halitosis and teeth decay".

This move follows Viet Nam's ratification of the World Health Organization Framework Convention on Tobacco Control. This convention was adopted unanimously by the 56th World Health Assembly on May 21, 2003.

About 50 percent of men are smokers, while only 3.4 percent of women are, according to a Viet Nam survey. Around VND800 billion is spent a year on tobacco-related illnesses including lung cancer. Some 80 percent of lung cancer patients are smokers.