Over 1,000 people in the country come down with Paraquat - a weedkiller - annually.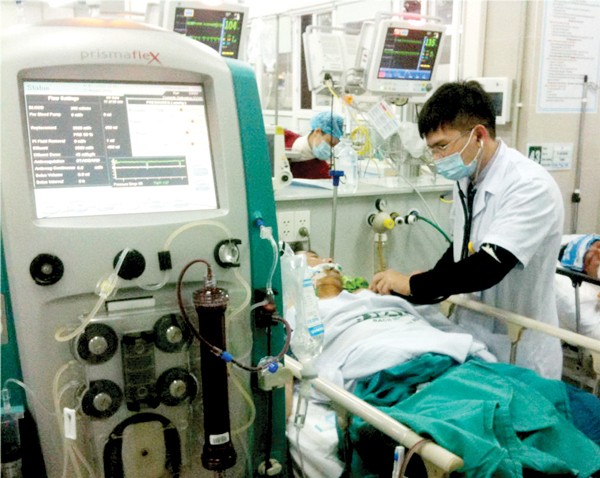 A Paraquat-poisoned patient is treated in Bach Mai Hospital (Photo: SGGP)
Worse, more people are poisoned with the toxic substance while it is costly to treat a Paraquat-poisoned people and the mortality rate is up to 70 percent.

Meantime, the herbicide remain easy to buy as candy n the country and the governments are neglected in controlling it; therefore it is a real threat to human lives and health condition.
Hanoi-based Bach Mai Hospital's Anti-poison ward always receives poisoned people including alcohol poisoned people, food poisoned patients and Paraquat poisoned patients. Over 30 year old man from the northern province of Bac Giang who came down with Paraquat is writhing in the bed. His relative said that he drank a bowl of Paraquat because of anger with his wife. Next is a 24 year old man from the northern province of Quang Ninh who was poisoned with Paraquat also.
A 71 year old woman in Hanoi succumbed to the toxic substance despite of doctors' efforts to save.
Dr. Nguyen Trung Nguyen, head of the ward , said that most people drink Praquat as a way to suicide. The substance will destroy organs especially lung causing breathing problem. It resulted in 70 percent of dead people because of drinking Paraquat.

Though people understand that the toxic substance will destroy their organ, many people still use Paraquat as a way to suicide. The Paraquat-poisoned cases has seen year-on-year increase from 300 to 350 to 450 in 2014, 2015, 2016 respectively. At present, the anti-poison center admits such poisoned case a day.

The Ministry of Agriculture and Rural Development decided to remove Paraquat from the list of permitted plant protection products in the country. However, products with these two compounds are allowed to be on sale and circulation for another two years before the ban comes into effect, while 32 nations in the world have banned Paraquat for years. 

Dr. Nguyen said that most patients coming down with Paraquat are young and they all feel regretful. Some people escaped death after poisoning yet they suffer complications so their health condition and labor fails. Additionally, they have to incur huge treatment cost.