The Poison Control Center at Hanoi-based Bach Mai Hospital yesterday said that it has admitted more cases of methanol poisoning and most patients are Hanoians.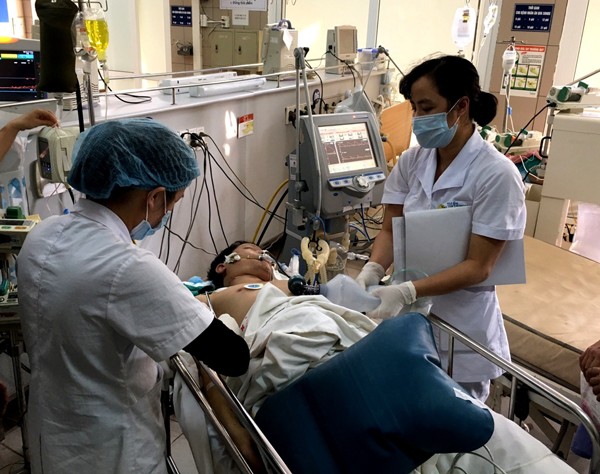 People suffering metanol-toxic alcohol are treated in the Poison Center (Photo: SGGP)
From February 22 to March 8, 14 people had been taken to the center for treatment of methanol-tainted alcohol; one of them died. Patients said that they drank methanol-tainted alcohol in roadside eateries in districts Ha Dong, Phuc Tho, Dong Da, Thanh Xuan and Hoang Mai.
Noticeably, of three people were rushed to the center for emergency treatment within 48 hours, two were treated by a method combining hemodialysis and hemoperfusion.
Specially, a 35 year old foreigner who is an English teacher in Phao Dai Lang Street in Dong Da District was hospitalized when he experienced blurred vision and terrible headache. He admitted to drink alcohol from a nearby eatery.
Along with those who were poisoned in the center, the hospital's Digestive Ward has seen a rise in patients who had stomach bleeding, cirrhosis within one month due to drinking wine.
Dr. Vu Truong Khanh, head of the ward, said that over 50 patients are being treated alcohol-related diseases. During treatment process, they have had mental disorder shouting and illusion. The rate of patients with cirrhosis due to drinking wine in the ward accounts for 40-50 percent while the proportion of patients with cute pancreatitis is 40 percent.
Since more people in Hanoi have poisoned, inter-department food safety inspectors in Hanoi have enhanced monitoring roadside eateries in districts Dong Da, Thanh Xuan, Ha Dong and Hoang Mai to seize alcohol containing methanol.
Within one week, inspectors paid visits to 200 eateries and wine businesses sealing 2,000 liter of wine without clear indication of origin. Moreover, inspectors discovered that wine in Vinh Thanh eatery and in Nguyen Dinh Chinh in district Ha Dong and Thanh Xuan respectively with methanol content exceeded the limit.
Director of the Department of Health Nguyen Khac Hien said that in next time, inspectors will continue to visit eateries to trace back the origin of wine in above mentioned restaurants. If inspectors detect wine without label and origin, they will destroy and issue fine to the eatery owners.
Authorities also increase information to local people about methanol-tainted alcohol.