Two more educational institutions in Ho Chi Minh City have been temporarily closed due to swine flu fears after some students tested positive on July 27.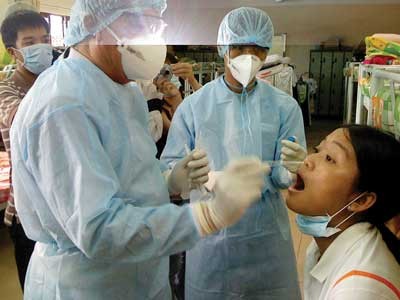 Medical personnel in HCMC take nose fluid samples from a student of Ngo Thoi Nhiem High School in District 9 who was suspected to have contracted swine flu. Seven schools have been temporarily closed as a precaution after some students tested positive for the disease. (Photo: SGGP)
The city Department of Health also quarantined and sprayed disinfectants at one of them, Construction High School in Binh Thanh District, where a student had tested positive for the virus.
The management has closed the school for a short period as a precautionary measure.
The private Hong Duc High School in Tan Binh District has been shut until August 15 after a 14-year-old student was found to have swine flu.
At three other institutions closed earlier -- Nguyen Khuyen High School in Tan Binh District, Ngo Thoi Nhiem in District 9, and Royal Melbourne Institute of Technology in District 7 – the number of cases has continued to rise.
RMIT said 10 people, including a teacher and an employee, are infected. Ngo Thoi Nhiem and Nguyen Khuyen High School both have 10 more cases, with the former's tally now rising to 90.
Sixty cases -- a record number for a single day -- were reported on July 27, the Ministry of Health said, taking the total number in the country to 672. Among the new cases the southern provinces alone reported 52.
Dr. Tran Tinh Hien, deputy director of the city's Tropical Diseases Hospital, said his hospital is treating 80 patients including eight foreigners.
Around 90 percent of them have responded well to treatment using antiviral drug Tamiflu but Dr. Hien is worried about the rest.
One man has been treated for nine days and his lung is affected, a pregnant woman has tested positive, and two foreigners are suspected to have resistance to Tamiflu since they remain ill despite nine days of treatment.


The District 9 People's Committee has decided to close all 25 pre-schools, 38 creches, 15 primary schools, and 12 secondary schools in the district until August 3 as a precaution. Local medical workers will disinfect schools in the district. Tan Binh is likewise.

Ten people suspected to have contracted the A/H1N1 virus were isolated and tested at the Hanoi-based Military Epidemic Prevention and Hygiene Institute after their colleague contracted with the disease, the city Department of Health said on July 27. The Institute also disinfected the office of Viettel, Mobile Telecom Services Company, at 1 Giang Van Minh Street in Hanoi.

According to the European Centre for Disease Control, there have been 160,038 confirmed cases of the flu in 145 countries and territories as of July 27, 991 of them fatal.