An announcement of an increase in high blood pressure among schools by the Nutrition Center in Ho Chi Minh City  caused concern amongst parents.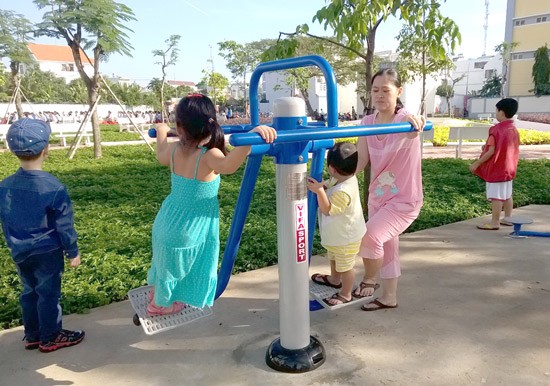 Kids need to exercise to be healthy and prevent obesity (Photo: SGGP)
As per the center's figure, the rate of high blood pressure amongst students of all grades is 15.4 percent and 13.4 percent in primary students.
Health experts say that the high blood pressure links with the obesity rate which is increasing  every year.
According to the statistics, the rate of obesity in students is 41.4 percent. Worrisome, more primary kids suffer overweight. Not only Ho Chi Minh City but also Hanoi and big cities have more obese students; for instance, there are over 3,000 obese primary students in Hanoi in 2011.
The obesity rate among children is increasing. As per the National Nutrition Center's study, obesity people account for 10 percent of the country's population, especially some provinces having 30 percent of obese residents.

Dr. Le Bach Mai from the National Nutrition Center said that the meal for children nowadays tend to increase rich protein and fat and reduce starch. More dangerously, up to 15 percent of mothers don't know that their kids are obese.
Head of the Department of Preventive Medicine Dr. Tran Dac Phu said that the country needs to conceive a  strategy to prevent the obesity, one of step to curb infectious diseases as per the Prime Minister's guideline. Medical experts should act more to encourage people to consume vegetables and fruits as well as control harmful food, especially sugary beverage.