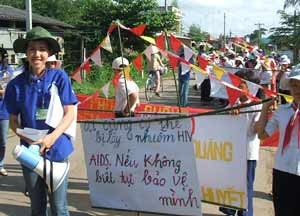 A campaign held in the countryside to raise public awareness of HIV/AIDS
The number of under 16-year-old children infected with HIV in Vietnam has increased for years, said a health official.
Dr. Nguyen Thanh Long, head of the HIV/AIDS Prevention and Control Department, Ministry of Health, said that 756 HIV-afflicted children were reported last year, and at present, all provinces and cities in the country have teenage HIV carriers.
Dealing with the situation, the Ministry of Health is working other ministries and agencies to strengthen medical care for HIV infected mothers and treatment for children. Its target is that 90 per cent of HIV mothers and their children receive treatment during the pregnancy period and take anti-HIV medicine for their lifetime.