More than 80 percent of A/H1N1 influenza deaths result from delayed treatment to high-risk individuals, said a health official at a meeting of the National Steering Board of Human Flu Prevention on October 28 in Hanoi.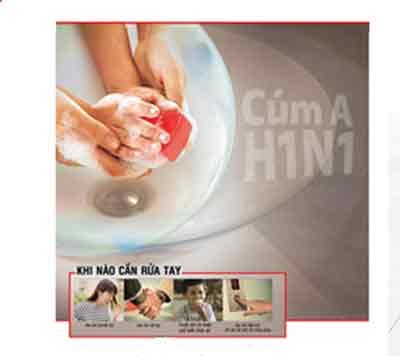 Health officials recommend washing hands with soap as an effective measure to protect against the A/H1N1 virus
Dr. Nguyen Huy Nga, chief of the Department of Preventive Health and Environment, said that of Vietnam's 35 A/H1N1 deaths, 29 were considered high-risk cases including nine pregnant women and 20 suffering from chronic diseases.
Most of these individuals failed to seek medical treatment until 3-10 days after contracting the flu, and by then it was too late to save them, said Dr. Nga.
Currently, there is no evidence to suggest that the virus is mutating into a more deadly form, although the fatality rate from A/H1N1 infection has jumped.
As the winter season approaches, however, the risk of the virus spreading also continues to increase. 
Dr. Nguyen Van Kinh, head of the Hanoi-based National Institute of Infectious and Tropical Diseases, said the country is currently dealing with outbreaks of both dengue fever and swine flu at the same time.
In addition, around 80 percent of patients coming to medical facilities request Tamiflu to take home for the treatment and prevention of A/H1N1, but under health ministry regulations, the drug is provided only to inpatients.
Deputy Health Minister Trinh Quan Huan said health authorities are concerned about the development of Tamilflu resistance as there have already been cases in Vietnam where patients showed no improvement after taking the medicine.
Therefore, the health ministry needs to tightly control and monitor the use of the drug, said Minister Huan.