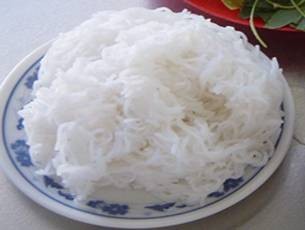 Rice vermicelli is found to have Tinopal fluorescent
Tests conducted by the Center for Consumption Study and Consultation (CESCON) found 30 samples of rice noodle varieties from four supermarkets, four traditional markets and one shop to contain Tinopal--a fluorescent whitening agent used in detergent powders and liquids.
The Tinopal was being used to make the rice noodles, rice vermicelli, and rice spaghetti to look more white and brighter.
According to test results released on July 22, around 24 of the 30 samples contained Tinopal.
Tinopal consumption can cause liver and kidney failure, body fatigue, gastrointestinal damage, and even cancer.
CESCON has petitioned the Ministry of Health to tighten control on food safety in general and production and sale of rice noodles in particular in markets and supermarkets.
Experts advise consumers to use ultraviolet light to check quality of rice noodles, as the noodles contaminated with Tinopal glow under fluorescent light.