Annually, Vietnam has consumed about 60,000 tons of traditional or herbal medicine of various kinds, and over 80 percent of herbal medicine was imported from China.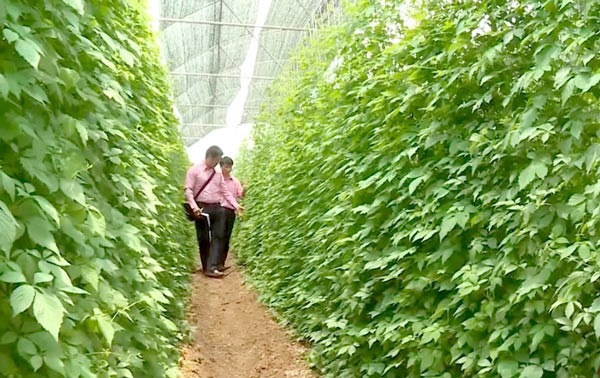 An area in the North plant herbs (Photo: SGGP)
Total herbal medicinal materials are harvested in Vietnam annually is 5,000 tons, reported experts at a workshop on Sustainable Development of Medicinal Materials in Vietnam jointly organized by the Nhân Dân (People) Newspaper and the Ministry of Health June 8 in Hanoi.
 
According to the Ministry of Health, the country is one of the nations with enormous potential of herbal medicine plants and it has many rare herbs. Moreover, ethnic minority groups in the country possess a vast knowledge of herbs as medicine.
 
The ministry's Traditional Medicines Department Director Pham Vu Khanh said that of 12,000 plants in the country, nearly 4,000 of them can be used as medicinal herbs and they are seen in everywhere in the country. Many of them can be used for treating diseases and they are of high economic value. Most of them grow in high mountains especially in the North, and in the Highland.

Though the country has enormous potential of herbs, the traditional medicine industry in the country is facing difficulties. Additionally, growing these herbs is at small scale; accordingly the country annually harvests only 5,000 tons of familiar varieties.
Meantime, traders sell and buy traditional medicinal materials and just some is planted as per enterprises. Worse, there has been a loose management on exploitation of herbs; hence many rare herbs are exported to foreign countries.

Mr. Khanh said that because of domestic source of herbs cannot meet the demand, therefore Vietnam has to import a large quantity of herbal medicinal materials from China. Statistic reports show that every year, the country uses approximately 60,000 tons of herbs for pharmaceutical industry and for treatment and over 80 percent of them are imported.
Noticeably, most of imported herbs have unclear origin. Lack of personnel to test quality of imported hers in border crossings also causes under standard imported herbs.