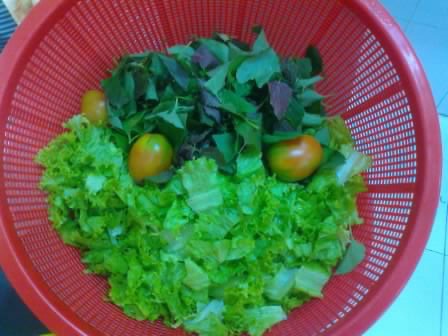 Consuming unsafe vegetables led to worm infection in the stomach (Photo: N. Tran)
According to a survey by the National Institute of Malariology, Parasitology and Etomology, tabled at a conference in Ho Chi Minh City, no less than 60 million Vietnamese people suffer from worms in their stomachs, by consuming unwashed, unsafe vegetables.
40 million Vietnamese are affected by the capillaria worm and 20 million are infected by the hookworm. Most of these parasitic worms cling on to victims' intestines, stomach and organs like the liver, lung, muscles and brain.
Worm infection is very high amongst children with over 70 percent affected in South Vietnam and 100 percent in North Vietnam. Dr. Tran Thi Khanh Tuong from the Pham Ngoc Thach Medical University pointed out that consuming unwashed and unsafe vegetable was the reason for this high rate of worm infestation.