Over the last seven days, dozens of people have been admitted to hospital complaining of odd symptoms now related to an unknown disease in the southern province of An Giang.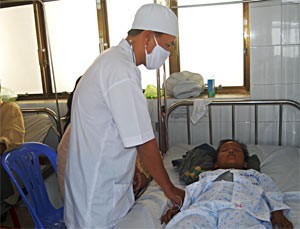 Doctor takes care of a victim of the mysterious disease
To Wednesday, there were some 38 patients admitted exhibiting similarly bizarre symptoms, including contortion of the mouth, glassy eyes and mild paralysis.

Fortunately, no related deaths have been reported, most patients largely recovered and eleven have already been discharged and three transferred from emergency to non-critical wards.

In An Phu District, hundreds of students stayed home from school for fear of catching the strange disease.

Health officials from the HCMC Pasteur Institute and the Children's Hospital No.1 were dispatched to An Giang Province Wednesday to work with the An Giang Preventive Health Department in identifying the ailment.

Dr. Tran Hoang Sang, Director of the An Phu General Hospital, said the doctors have still been unable to identify the disease or its cause, but that it is likely 68 percent of the patients had inhaled "toxic air" and then used cold tablets which caused whatever virus was present to alter its form.

Dr. Sang did however expect the disease would be identified within the next ten days.

Local officials are busy with epidemic prevention work including improving environmental sanitation, spraying anti-mosquito chemicals and testing local water supplies, while the An Phu District People's Committee is directing local hospitals to carefully treat victims, alert locals to the ailment and the need for them to improve their personal hygiene.