National Assembly Chairman Nguyen Sinh Hung has hailed young doctors for their significant contribution to the national medical development, emphasising their leading role in voluntary activities for public health care.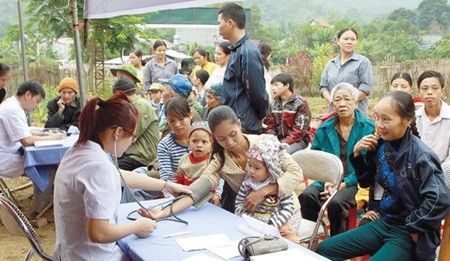 Doctors from Thai Nguyen General Hospital examine poor people in northern mountainous Bac Kan Province. NA Chairman Nguyen Sinh Hung greatly appreciates young doctors for their leading role in voluntary activities for public health care.— VNA/VNS Photo Duong Ngoc
The NA Chairman made his appreciation at a meeting with outstanding young doctors while attending a two-day conference held by the Viet Nam Association of Young Doctors (VAYD) on Wednesday.
Speaking at the conference, NA Chairman Hung expressed his pleasure at the rapid development of the VYDA over the past seven years.
Founded in 2009, the association has expanded over all 63 provinces and cities across the country with more than 80,000 members.
Hung also urged the association at all levels to focus on guiding and encouraging young doctors to study, practise and improve medical ethics, be more creative and active in scientific research as well as in voluntary activities for community health and contribute to the development of Viet Nam's medical sector.
Additionally, he asked the Ministry of Health (MoH), the Ho Chi Minh Communist Youth Union Central Committee and Vietnamese Youth Union to create more favourable conditions for the association to develop further in the coming time.
Regarding plans for the 2015-2020 tenure, the VYDA set a target to provide free medical checks-up and medicine for around 4 million people as well as offer free eye operations for 3,800 elderly people and cancer screening for 30,000 people.
The Government sees the health sector as a pillar of socio-economic development. It wants to achieve the best possible health for all by ensuring access to affordable, quality health care.
The health sector has made all efforts to improve its services as a way to boost socio-economic development.
The MoH issued decision 2151/ QD/BYT in June last year to approve a plan on renewing and improving the health system along the lines of equity, efficiency and development to facilitate the protection, care and promotion of health for all with an orientation of increasing higher quality and satisfaction in conformity with the socio-economic development of the country. It vowed to give high priority to improving services for the poor.
A programme of young doctors voluntarily working in the mountains, remote border areas, islands, and disadvantaged areas launched every year since five years ago by the MoH and the Youth Union has helped improved health care services for many disadvantaged people.
Thousands of young doctors are joining the national programme to offer free diagnoses and medicine to disadvantaged people as well as provide first aid training to teachers at kindergartens and primary schools across Viet Nam.
Last year alone, the campaign helped provide free medicine and diagnoses to 100,000 poor people in all 63 provinces and cities in the country.
The physicians conducted free eye surgeries on 1,000 elderly people and give first aid lessons to 5,000 teachers from 700 kindergartens and primary schools.
The campaign also mobilised people to donate blood at an estimated amount of 13,000 units, or 3,259 liters of blood.
It arranged for 50,000 children to take part in an activity to wash their hands with soap to prevent and fight epidemics.
The last year's campaign was the start of a plan to give humanitarian diagnoses to 1 million needy people this year, as steered by the Ministry of Health, Viet Nam People's Army, Viet Nam Red Cross, and Viet Nam Association of Young Doctors.