The Ministry of Agriculture and Rural Development (MARD), presided by Minister Cao Duc Phat, yesterday hosted a national conference in Ha Noi to come up with bird-flu prevention strategies.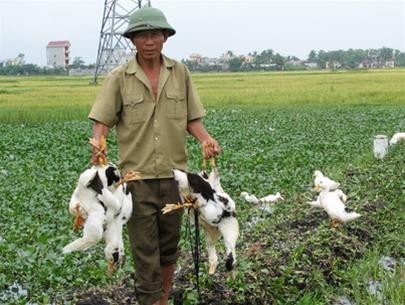 A farmer in Thanh Hoa province brings dead ducks to bury ( Photo:Tuoi tre newspaper)
The participants from the departments of Agriculture and Rural development, Animal Health and other relevant agencies discussed the bird flu situation at their localities.

There have been outbreaks of avian flu in ten provinces: Nghe An, Nam Dinh, Son La, Quang Ninh, Bac Giang, Bac Ninh and Dong Thap and in the cities of Hai Phong and Can Tho, according to the latest MARD report discussed at the meeting.

The report also named the newest province to be hit by bird flu, the northern province of Bac Ninh. Tests carried out showed that 570 of a 950-strong flock of waterfowl at a farm in the province's Thuan Thanh District were positive for the H5N1 virus. Vets subsequently slaughtered all 950 poultry on the farm.

The latest outbreak struck 10 cities and provinces with the H5N1 virus in less than a month, all of which have been amongst unvaccinated flock aged from 30-40 days, the Department of Animal Health said.

The widespread of the disease, is due to those in charge being neglectful of their duties; poorly carried out vaccinations were out of the local government's control.
Many of this month's infected provinces are in connected regions surrounding the Hong River.

MARD has reacted to the situation by requesting all local authorities to set up teams that are prepared to quickly deal with any further outbreaks and to supervise poultry sale and imports into the area.