The Ho Chi Minh City Eye Hospital and Alcon Vietnam Company organized on June 15 a press conference at Sheraton Hotel to introduce V –Tract 2006, a national eye conference.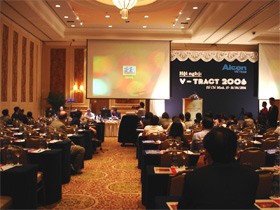 At the press conference ( Photo: U.Phuong)
The organizers took turn to answer the questions of reporters about the aim of live satellite program of eye surgery the following day, new skills in eye operation. The media also wished to know about Alcon's activities in Viet Nam and whether such activity will be held annually.
Reporters from newspapers such as the Sai Gon Giai Phong, Thanh Nien, Nguoi Lao Dong, VietnamNet, and other media agencies attended the conference.
In the afternoon of the same day, a workshop of cataract and refractive surgery was held with the attendance of over 300 doctors across Viet Nam and Dr. Le Ngoc Trong, Deputy Minister of Health. Dr. Tran Thi Phuong Thu, Director of the HCMC Eye Hospital and Dr. Ron Yeoh made a brief introduction of V –Tract, Dr. Alan Crandall explained Aspheric Optic Intraocular Lens (IOL) technology and management of difficult Cataracts New Technology, Dr. Sam Masket gave his presentations of Acrysof ReStor with Micro – Coaxial Phaco and innovations in Ophthalmic Viscosurgical Devices (OVD) in Ocular Surgery.
Today, a live satellite program of eye operation are broadcast from the Eye Hospital to the Hotel. People ask related questions while doctors are performing the eye surgeon.