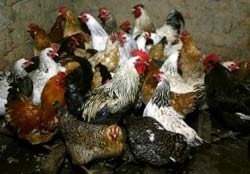 The chicken cages like this should be cleaned regularly
During the last four months, Viet Nam claimed no new bird flu H5N1 cases, according to the Medical Prevent Department of the Ministry of Health .
 
A nation-wide campaign on environmental sanitation and breeding facility clean-up will be held by the Ministry of Health and the Ministry of Agriculture and Rural Development in March.

Following Ha Tay Province, the provinces of Quang Nam and Tien Giang will implement the sanitary campaign to prevent bird flu.

The Ministry of Health has demanded the northern provinces of Ha Tay, Ha Nam, Hai Duong, Vinh Phuc and Hung Yen to monitor the preventive work of avian flu, especially to avoid major outbreaks in Ha Noi, in preparation for the 10th National Party Congress and APEC conferences to be held in November 2006.