From 2014, the national campaign to take care of elderly people for the period 2014-2020 had been launched. In response to the campaign, only in 2016, around 80,000 elderly people received healthcare consultation and treatment by Vinamilk, Vietnam's largest dairy producer, through series of program.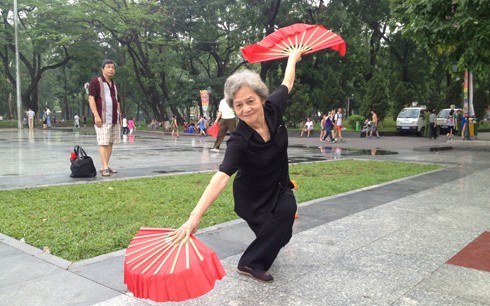 Senior people should take exercise to keep fit (Photo: SGGP)
Lecturer of the Army Institute Dr. Nguyen Hoang Le said that according to statistics, Vietnam ranked the 65th in the world in average with the Vietnamese people's average lifespan reaching over 73.2.
The study also pointed out 95 percent of Vietnamese elderly people have illness mostly noncommunicable chronic diseases and just only 5 percent senior people are healthy. In addition, 70 percent of old people must work to earn money with the support of children and relatives while just more than 25 percent of their counterparts live on pension or social welfare.
The more people grow old, the more health problem they have including  reduced immune system leading to diseases, metabolism disorder, fatty liver, obesity and malnutrition. Once suffering these disorders, old people are likely to have diabetes, atherosclerosis, stroke, myocardial infarction and cancers.
To reduce and prevent these above-mentioned diseases, senior people need a proper diet to avoid these illnesses as well as malnutrition, especially they need to add calcium-Vitamin D, two important substances in building strong and dense bones.
In the globe, people pay attention to Osteoporosis which is popular amongst women than men. To prevent Osteoporosis, senior they needs to consume more calcium, and vitamin D as well as take exercise, keep proper weight, stop smoking and having wine. In stead of being that, they should consume milk and dairy products such as yaourt.