Four people have become infected with the H5N1 virus after coming into contact with or eating dead waterfowl, and one of them has died, which is why the Ministry of Health is warning the public to forgo eating a popular dish made from raw duck blood.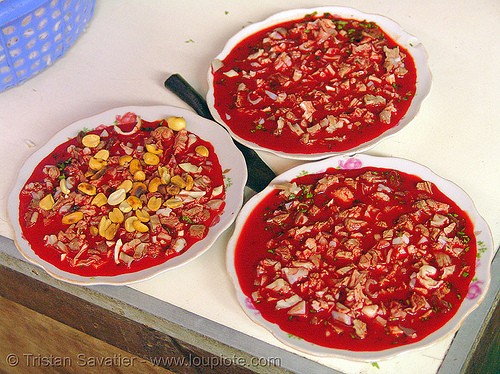 The Ministry of Health warns the public to forgo eating a popular dish made from raw duck blood following the detection of four infected people with the H5N1 virus

The ministry is also stressing the importance of never eating poultry whose origin is unknown.
In news pertaining to Tamiflu, Dr. Nguyen Huy Nga, who heads the Department of Preventive Health, has announced that no patients suffered any side effects from using the medicine.
Tamiflu was used recently to treat H5N1 patients. Because of its apparent effectiveness, the Ministry of Health has stockpiled more than 20 million doses of the drug as well as ingredients for future use.
Still on the subject of public health, the deputy director of the Rabies Prevention Project told a press conference in Ha Noi on Monday that she would once again petition the Ministry of Health to end the use of the rabies vaccine Fuenzalida.
Professor Dinh Kim Xuyen's announcement comes in the wake of news that a local man was hospitalized with acute flaccid paralysis three weeks ago after receiving the sixth in a series of eight shots of the dodgy vaccine at a Ho Chi Minh City clinic.