As of July 2, parents who wish to make use of a new medical examination follow-up service in Ho Chi Minh city can save time normally wasted waiting around in the hospital by calling to book ahead on the following telephone number: 095-5571818.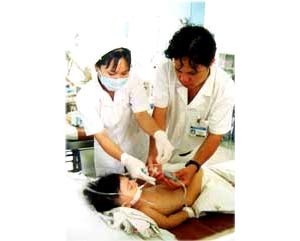 A doctor at the Children's Hospital I treats a child with encephalitis
Deputy Director of the Children's Hospital I, Nguyen Thanh Hung, said that the service has been designed to prevent children from having to wait around for long periods in the hospital.
Parents only need provide the time they think suitable for examination when they call and they will receive detailed instructions of the location of their appointment and the name of the doctor.
The deputy director further said that parents might use the service for medical examinations of all kinds, even for routine inoculations.
In related news, more than 100 children aged between two and eight years old have been hospitalized at the Ha Noi-based Central Children's Hospital for treatment of encephalitis, according to a hospital employee on June 26.
Over 60 infant patients are suffering from dangerous complications after being admitted to hospital complaining of breathing difficulties, convulsions and some have even fallen into a coma.