The 13th annual International Congress on Maxillo Facial Medicine, held between 16 and 17 July in Ho Chi Minh City, will be an opportunity to promote new facial reconstruction and dental treatments.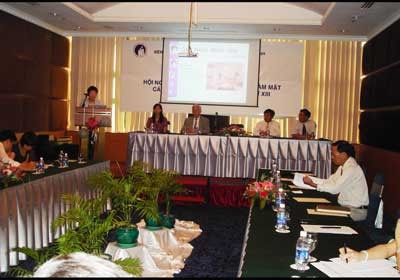 The press conference is held on July 15, 2009, a day before the International Congress on Maxillo Facial Medicine (Photo: U.Phuong)
Vietnam has been making strong progress in scientific methods or updating advanced technologies to keep up with maxillo facial development in recent years.
The conference is an opportunity for participants to update techniques and technologies from treatment to development in dentistry and plastic surgery.
A vital part of the conference is demonstration and exhibition of the latest products, materials and equipment.
Dr. Lam Hoai Phuong, chairwoman of the organizing board, said, "Through the event, we hope participants will gain valuable experiences and knowledge that could be used toward the benefits of patients, families and one's self."
The congress attracted participants and lecturers from various countries, including America, Australia, Colombia, China, South Korea, the Philippines, Thailand and Vietnam.
During the two days, various ideas on maxillo facial, plastic surgery, orthodontics, implants and prosthodontics will be shared and presented.
The event is organized by the National Hospital of Odonto – Stomatology.