Thanks to an efficient new IT system for managing check-ups covered by health insurance, people in the northern province of Thái Nguyên do not need to queue up at hospitals from 3am like in the past.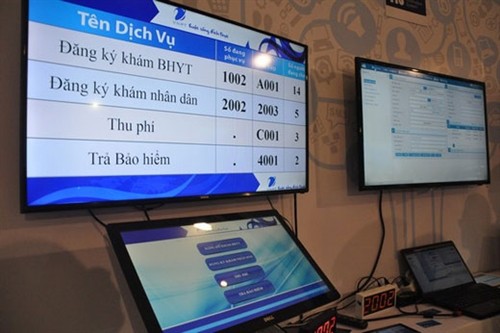 New health insurance IT system makes check-ups smooth
Nguyễn Thanh Nghị, 65, has been getting check-ups with her health insurance for decades.
"In the past whenever I told anybody about health insurance check-ups, they would feel terrible because we had to queue up very early in the morning and wait until we became tired.
"If I failed to pay attention when my name was called and did not respond, I would have completely wasted my time."
But since April 2015 he has not needed to queue up at 3a.m: Every clinic in Thái Nguyên Province has installed the health insurance IT system.
Thanks to the system, patients can now get a waiting number and relatives and friends of medical staff can no longer walk in and get a check-up first.
Nghị said: "With the waiting number, whoever comes first will be served first. It's fair for everybody."
Time required for check-up down from 1 day to 3 hours
At the Thái Nguyên Central Hospital, patients often had to spend the whole day for a comprehensive check-up, but now the situation has changed.

Phạm Thị Phương Thảo, 26, of Thái Nguyên city said: "I only need three hours to do every test required and finish my comprehensive health check-up. Health insurance payment procedures are very simple."
What is happening now was considered impossible a year ago.

Since health insurance became more flexible, allowing people to register anywhere and go to any medical facility, a practical demand arose for a system that can monitor who goes for treatment where, and the new system is saving money for the insurer, Dr Phan Bá Đào, deputy director of the hospital, said.

"It is limiting abuse of health insurance," he added.

The cumbersome health insurance procedures had caused trouble for both patients and hospital staff, he said.

But things have changed completely after one year of piloting the health insurance IT system.
Now payments for health checks between the Thái Nguyên Health Insurance and the Thái Nguyên Central Hospital are basically completed within a day.

No more abuse of health insurance
With the health insurance IT system, patients do not need to wait for a long time and payment procedures have become very quick and simple, payment between State offices like healthcare insurance and hospitals has become accurate and work pressure at the two offices has reduced, and health insurance has become highly efficient and is no longer abused by dishonest people.
"With the new system, we no longer have the situation of patients going to multiple clinics many times in a day for health checks, can discover errors in figures and quoting prices for medical services and drugs and can eliminate wasteful expenditure," Nguyễn Hồng Trường, deputy head of the Thái Nguyên Health Insurance, said.
"The health insurance IT system has been very efficient and helped achieve a breakthrough in healthcare, managing insurance payments and reforming administration.
"The success of the system has improved the quality of healthcare for local residents and management of the health insurance fund."