An outpatient clinic for people living with HIV/AIDS opened on November 5 in District 9, Ho Chi Minh City.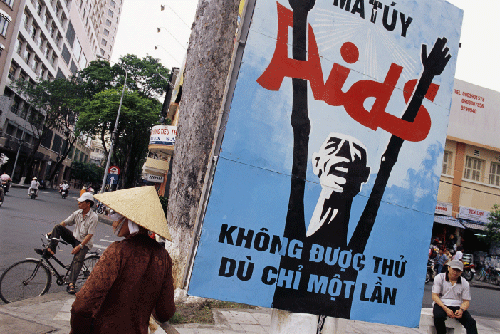 An HIV/AIDS counter poster in Ho Chi Minh City
The clinic provides a comprehensive package of services, including preventive methods, volunteer counseling and testing, sexually transmitted infection diagnosis, anti-retroviral treatment, and home-based care to people living with HIV/AIDS and others in the district and neighboring areas.
Senior representatives from the Ho Chi Minh City Department of Health, the City's AIDS Committee, the People's Committee of District 9, the U.S. President's Emergency Plan for AIDS Relief (PEPFAR), and Medecins du Monde (MDM), a French non-governmental humanitarian aid organization, participated in the ribbon-cutting ceremony.
A similar clinic supported by PEPFAR had been already in operation in District 6. Opened in 2005, the clinic to date has reached 13,079 individuals with prevention activities, provided voluntary counseling and testing services to 3,991, anti-retroviral treatment services to 824, and care and support services to 1,825 adults and 500 orphans and vulnerable children.