The Ho Chi Minh City Departments of Health, Department of Finance, Department of Labor, War Invalids and Social Affairs (MOLISA) have sent a report on new hospital fee schedules in accordance with circular 03, issued on January, 2006 to Ho Chi Minh City People's Committee.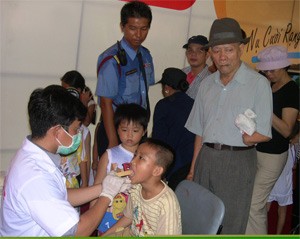 Doctors examine under-six children
Treatment units under the Department of Health will charge the maximum fee for over 1,000 types of services, techniques and tests.
Director of the Department of Health will approve hospital charge for units under the department to be in line with regulations for each specialization of hospital wards.
Under-six children with have free hospital cards. Poor people and insurance cardholders are not affected by the new charge.
Directors must take people closed to the poverty line with no insurance cards into consideration to exempt these people from charge when they are treated in hospitals.
Health, Finance and MOLISA Departments proposed that the new hospital fee was schedule to start on April 1, 2006.
Director of the Pediatrics Hospital I (PH I) Tang Chi Thuong has reported to Ho Chi Minh City Cultural and Social Affairs Board that 100 percentage of under-six children received free treatment even on weekends and holidays.