The Health Department of Hanoi has launched two hotlines to help prevent the spread of avian flu to humans.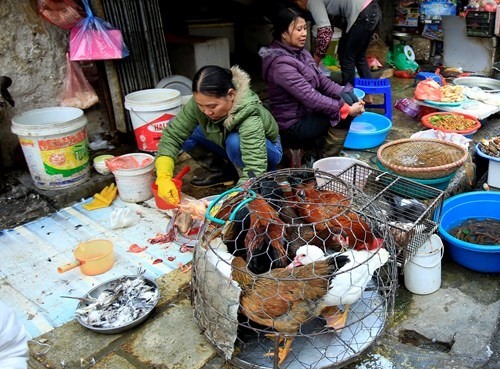 The trading of poultry with unclear origin still takes place in the capital city of Hanoi (Photo: tienphong.vn)
Director of the department Nguyen Khac Hien said at an online meeting on disease prevention work held in Hanoi on Tuesday that local residents should call the two hotlines, 0949396115 and 0969082115 if they suspect a facility is trading poultry that was illegally imported, has unclear origins or shows signs of disease.
The city has recorded 366 dengue fever cases, 19 hand, foot and mouth disease cases and 12 whooping cough cases, since the beginning of this year, according to deputy director of the department Hoang Duc Hanh. However, no deaths caused by the diseases have been reported.
The number of human A/H7N9 cases have increased steadily in neighboring countries, posing a high risk of the virus entering Vietnam.
The weather has also created favorable conditions for the spread of respiratory and bird flu diseases, Hanh said.
Given the threat, the Hanoi's Health Preventive Centre has worked with Noi Bai International Airport to monitor passengers at the airport, he said.
It is estimated that Noi Bai airport receives between 50 and 60 international flights via the airport every day.
Since it was not easy to detect poultry suffering from A/H7/N9 avian flu virus, Hien said, the health department would work with the municipal department of Agriculture and Rural Development to increase avian flu tests on poultry in the city, especially in high-risk areas.
To improve the effectiveness of disease prevention work, local health centers were authorized to collaborate with relevant agencies to update the development of the diseases as well as to respond promptly, said vice chairman of the municipal People's Committee Ngo Van Quy.
He also affirmed that the city authorities would provide sufficient funds to tackle the diseases.