Doctors in Cu Chi District said October 27 they saved the life of a 17-year-old female with A/H1N1 influenza just days after she had given birth.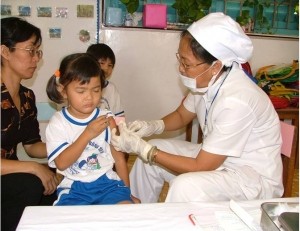 Doctor examines to children at the General Hospital, Cu Chi District.
Nguyen Thi Ngoc C., who had spent the past seven days in the district's General Hospital with her new baby, had just been sent home when she developed severe breathing difficulty, a high fever, and lung edema.
The woman, who lives in Hoa Dong Commune, Cu Chi, later tested positive for the A/H1N1 virus.
Doctors said October 27 she was no longer listed in critical condition.
Pregnant women are in the high risk group for H1N1. Among 36 deaths in Vietnam due to the A/H1N1 virus, ten cases have been pregnant women.