The Ministry of Health (MoH) will impose harsh punishments on hospitals and doctors that receive commission from pharmaceutical companies for prescribing particular drugs, and on those medical staff who give preferential treatment to patients that pay a broker to avoid waiting in line, announced the ministry on July 11.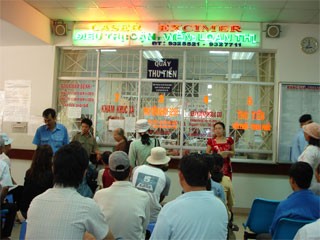 Patients wait for their turn to see doctors at the Eye Hospital in Ho Chi Minh City. (Photo:U.Phuong)
Under a draft proposal to reorganize hospital activities, the MoH will impose strict penalties on those hospitals whose medical staff work in collusion with pharmaceutical representatives to receive commission for prescribing their particular brand of drugs to patients.
The MoH will enforce hospitals to replace the outdated medical book system; currently patients receive a medical book on entering a hospital, which is placed in a queue with the other patients' books.
However, some hospital employees work with brokers to move paying patients to the front of the queue. In order to avoid this type of behavior the MoH wants to replace the medical book system with a computer operated system.
Hospital waiting times are also trying to be improved; the MoH will regulate that no patient should be waiting any longer than 60 minutes before seeing a doctor.
Hospitals have been asked to organize their staff to ensure that patients do not jostle each other in waiting room.