Dr. Nguyen Huy Nga, director of the Department of Preventive Health and Environment, announced a new strategy to swine flu at a meeting of the steering board of prevention of flu on August 26 in Hanoi.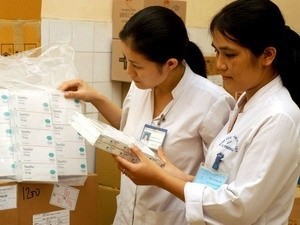 Medical workers check the quantity of Tamiflu (Photo: VNA)
Due to the H1N1 flu spreading, Vietnam will only oversee infected people of an outbreaks in places which have had infected people, only conduct tests for new outbreaks and people at high risk of contracting the flu, such as under five years olds and those over 65, pregnant women and those who suffering chronic diseases and those who experience bad complication.
The new strategy has been developed because of the large number of cases, which has led to limited resources being stretched.
In related news, the Deputy Minister of Health, Trinh Quan Huan, announced that the Pasteur Institute in Ho Chi Minh City has made a flu testing device which gives quick results in a short time. However, they are currently testing the device before it is released.
Swine flu infections in Vietnam have reached 2,226 with two fatalities, with 84 new cases of swine flu reported on August 26.