A 22 day-old girl has tested positive for the A/H1N1 flu virus, making her the youngest swine flu patient in Vietnam, Ho Chi Minh City's Children Hospital No 2 said September 10.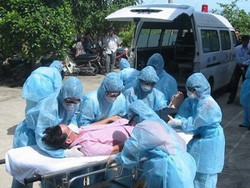 Vietnam records 205 people with A/H1N1on September 10, the highest ever in a single day (Photo: VNA)
Her mother is from Go Vap District, which has seen some outbreaks of the flu, including the baby's grandmother.
The same day, the Ministry of Health said that the number of people contracting A/H1N1 in Vietnam rose by 205 cases, the highest number ever for a single day.
Of these, 164 patients are from the South, 22 from the Central region, ten from the Central Highlands and nine from the North.
Vietnam has now recorded 4,265 people with A/H1N1, five of which have died and 3,298 have been released from hospital.