The USNS Mercy departed the central province of Khanh Hoa Sunday after treating over 10,000 patients. This wraps up the ship's humanitarian mission to the Western Pacific and Southeast Asia, a part of Pacific Partnership 2008.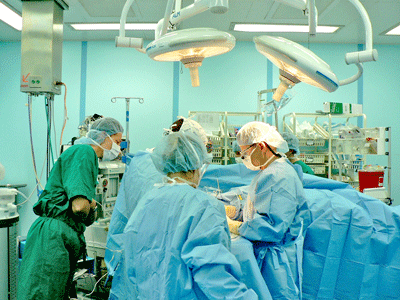 A surgery is carried out onboard  (Photo:SGGP)
Participants in the partnership include volunteers of the non-governmental organizations East Meets West Foundation, Operation Smile, Project Hope, and University of California San Diego Pre-Dental Society, medical and engineering professionals from Australia, Canada, South Korea, Singapore, and the U.S. military.

The partnership is a multinational, multi-agency humanitarian assistance mission active in the Asia Pacific region. It allows the United States to strengthen its partnerships with the armed forces of Viet Nam, Vietnamese health care professionals and local government officials.

During its 10-day stay off the coast of Nha Trang, the ship's doctors from and their Vietnamese colleagues provided free check-ups and for over 10,000 patients, of whom 230 others received surgery onboard.
Volunteer doctors helped repair and improve five medial facilities as well as centers for children with disabilities Nha Trang, Dien Khanh and Ninh Hoa districts. The total cost of the project was about US$62,000.