The Department of Food Hygiene and Safety announced on April 23 that it had not discovered any additive in the market that could turn pork into beef.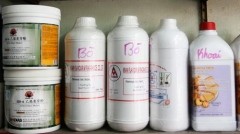 Beef stock sold at Dong Xuan market.(Photo: TuoiTre)
After hearing of China's scandalous additives that can turn pork into beef, the department conducted an inspection in some cities and provinces nationwide such as Hanoi, Hai Phong, Da Nang and Ho Chi Minh City.
A representative from the department conceded that currently many kinds of additives were selling in the bigger markets in Hanoi like Dong Xuan, Hang Be, Thanh Cong and Nghia Do.  However, additives can only provide flavour and colour to pork but cannot change the texture and taste of pork.
At Dong Xuan, Hanoi's biggest wholesale market on Hang Buom Street, customers can buy any additive easily, including the Chinese additive that "can help you cook your beef better".
The most worrisome is that most additives have no clear manufacturing origin label identifying its brand or the ingredients in it. They have been selling in markets for many years, the representative added. Besides, some labels on imported additives are in English or Chinese, so customers find it difficult to read.