Nguyen Van Binh, deputy head of the Preventive Medicine Department of the Health Ministry, confirmed on May 9 that Viet Nam has not recorded any case of foot-and-mouth patient due to contacting the cattle or eating meat infected with the disease.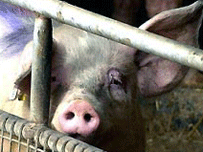 A pig with foot-and-mouth disease 
Some medical documents acknowledge that the possibility of transmission of disease from cattle to human exists but at a low and slight level. The public are worried about the spread of the foot-and mouth disease among cattle in cities and provinces.
Out of 268 cattle contracted with the disease, 117 died since early May in the central province of Ninh Thuan, said Nguyen Huu Phuoc, the head of Veterinary Department.
The cause of the outbreak is that merchants have transported diseased pigs from the central province of Lam Dong to sell in Ninh Thuan and other southern central provinces.