With A/H1N1 flu outbreaks occurring in some office buildings in Hanoi, many employees have applied for annual leave, however, an official recently said the Ministry of Health has not issued any warnings to close buildings over flu fears.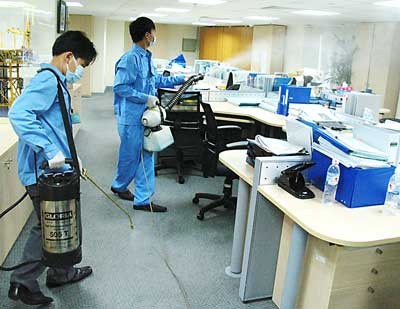 Medical workers spraying disinfectant at an office building where swine flu has been reported (Photo; SGGP)
The National Institute of Infectious and Tropical Diseases treated a member of staff from the Hanoi-based Vietcombank building July 30 as he had presented flu-like symptoms.
Although the man's test results are not available, employees working at the building are encouraged to wear facemasks and disinfectant sprayed on all floors and elevators.
On the same day, the ministry reported 794 cases of A/H1N1 flu across the country, but no reported deaths.
Hype surrounding the virus has seen some office buildings taking precautions, such as the Lawrence S. Ting building in District 7, despite no cases recorded there. Customers are also distributed masks and hand soaps or gels are available in every corner of the building.
Companies in other office buildings are reportedly taking similar action.
However, it is not high time for everyone to wear specific medical masks at work, said a health official.
The Ministry of Education and Training stressed there will be no new school year opening ceremonies at any schools that have not established steering boards for A/H1N1 Flu Prevention.