There has not been report on side effects of immunizations in babies and young children in the mass free-of-charge vaccination campaign in the country, said Professor Nguyen Tran Hien, head of the National Institute of Hygiene and Epidemiology at a press brief in Hanoi on September 19.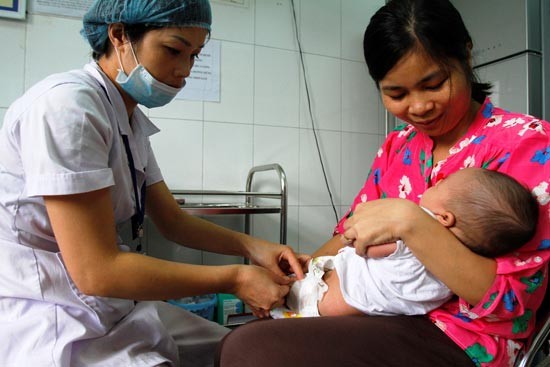 The best way to prevent measles and rubella is to vaccinate (Photo: SGGP)
The Ministry of Halth has been carrying out a gratis campaign to vaccinate over 95 percent of children ( 23 million children) in the ages of one to fourteen to reduce infections of measles and rubella.
The vaccination campaign includes three phases. The first phase is from September to October for children from one to five year old; the second phase is from November to December for children from six to ten and the third phase will kick of from January to next February for those from eleven to fourteen.
The campaign has been first launched in four districts including Thanh Son District in the northern province of Phu Tho, Phu Vang District of the central province of Thua Thien-Hue, Cu Kuin District of the highlands province of Dak Lak and Vung Tau city of the southern province of Ba Ria-Vung Tau.
So far, over 18,000 children in district Cu Kuin and Vung Tau city have received vaccine shots. There is no report of side effects of immunization.
Head of the Ministry of Health's Preventive Health Department Tran Dac Phu stressed that medical workers had carefully examined children's health conditions before administering a shot.
After the campaign, the Ministry of Health will officially include measles and rubella vaccine into the National Extended Vaccination Program.
Measles and rubella is an acute, contagious viral infection which can cause serious complications and deaths. It can spread rapidly and 90 percent of children who have contact with measles-suffering peers may catch measles and rubella virus.
Moreover, there is no specific for the two diseases. as per the World Health Organization's warning, the best way to prevent the two diseases is to vaccinate.