Further samples of fresh and salted eggs from markets in the North and South of Viet Nam turned out to test negative for any traces of Sudan, a carcinogenic industrial dye, said Dau Ngoc Hao, Deputy Chief of the Department of Animal Health.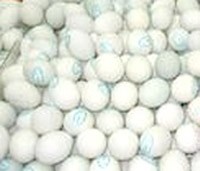 No Sudan is found in eggs in Viet Nam
The tests were carried out in response to requests made by Agri-Food and Veterinary Authorities (AVA) in Singapore and Hong Kong, who claimed that they had discovered traces of Sudan Red in salted and tinned eggs imported from Viet Nam, the Deputy Chief said.
The AVA alleged that eggs exported from the Southern Province of Vinh Long by the Vinh Nghiep Company contained the harmful substance. Tests carried out on samples by Quality Assurance and Testing Center 3 (Quatest 3) there, however, found no traces.
Inspectors with The Animal Health Department have said they will carry out further tests at all salted egg factories nationwide and provide AVA authorities with a list of registered companies that export salted eggs.