Following a public scare over melamine-tainted milk reported to have been consumed in Viet Nam, the country's Ministry of Health assured no patient has been hospitalized for kidney stones triggered by the dubious dairy products from China.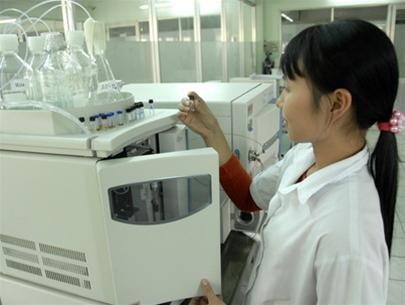 An expert carrying out melamine tests on suspicious dairy products (Photo:TTO)
Dr. Ly Ngoc Kinh, who heads the ministry's Treatment Management Department said on September 29 that doctors have been told to pay special attention to kidney stone symptoms when doing regular checkups on children, who are most vulnerable to the disease.
Meanwhile, chief health inspector Tran Quang Trung affirmed that only Chinese Yili brand milk, imported by Kim An Company Ltd in Phu Nhuan District contains the toxic melamine ingredient.
Currently, all dubious diary products have been recalled and tested for melamine. Companies are only permitted to announce quality of their products after they have been checked by relevant agencies in and outside the country.
Four domestic laboratories authorized to carry out such tests are the National Institute of Nutrition, Directorate for Standards and Quality, the Department of Sciences and Technology and the Ministry's Institute of Hygiene and Public Health.
In related news, on Monday, inspectors detected 100 tons of cream powder at Tra-Sas Company at 34 Nguyen Thi Nghia Street in District 1.
According to a deputy director of MCS Company which bought 92 tons, the cream was produced by Chinese company Zhenjiang Huaxin is melamine free. However, ministry inspectors still took samples for tests and ordered the firm to halt producing any product from the cream in the meantime.
In another case, inspectors have seized over 100 tons of Non Dairy Creamer originated in China being stocked by Lua Chon Dinh Company in Northwestern Cu Chi Industrial Zone after 25 tons of them were tested positive for melamine.
The firm said that it used the cream for making instant coffee for export to Thailand.