One week after the death of a 34-year-old woman at the Maria Chinese Clinic, there is still no verification as to who was actually responsible for this tragedy, according to the Department of Health in Hanoi at a press briefing on July 24.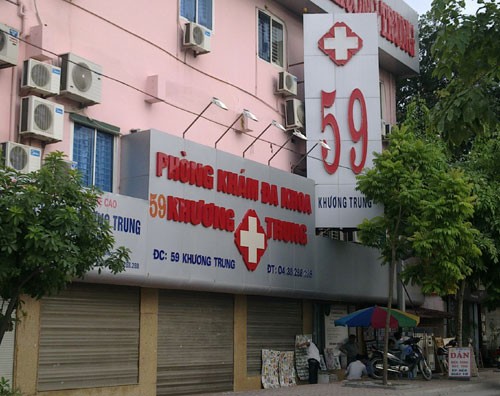 A traditional medicine clinic on Khuong Trung Street fined for violations
At the press briefing, Nguyen Khac Hien, director of the Department of Health, said that the department will tighten management of clinics in Hanoi employing foreign doctors, revoke licenses and shut down a clinic on first violation.
In addition, the department has ordered investors of clinics to sign a specific commitment or else their work permit would be withdrawn.
However, when reporters inquired as to who would be held responsible for lax treatment and management at the Maria Chinese Clinic, Hien said the department was only responsible for checking the clinic while investigative police would finally conclude who was responsible for the death of Nguyen Thu Phong, the 34-year-old woman.
Hien then asked Nguyen Viet Cuong, head of the inspection team, to   announce who will be held accountable for the woman's death. However, Cuong passed the query on to his deputy Dang Thi Hoa, who was directly looking into the case.
Hoa just made a speech on the inspection process and stated that inspectors had done their best and hence asked for public understanding.
The Department of Health announced that currently there were 35 clinics operating with foreign doctors who had legal licenses. Of the 35 clinics, 22 have presently closed operations and the remaining 13 have seven Chinese doctors and 20 doctors from other nationalities.