The Health Ministry said Aug. 16 that Vietnam saw 37 new cases of A/H1N1 flu, bringing the total to 1,454 cases with two deaths.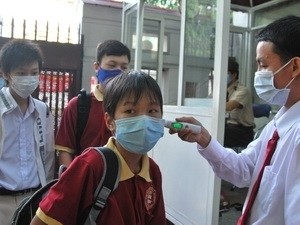 A scene often seen currently in Vietnam: temperature of students at international schools is measured before class (Photo: Vietnam News Agency)
The new cases comprised of 12 in northern provinces and 25 in southern provinces.
The number of patients under quarantine and treatment is 381, all in stable conditions, the ministry said. A total of 1,073 patients have been released from hospital.
On the same day, doctor Nguyen Van Chau, director of the Hochiminh City Department of Health, said 10 tons of cleansing substance Chloramine B had been distributed to schools in the city, and most of the schools have sprayed the substance to prevent this flu.
Le Hong Phong High School in the city's District 5 has closed temporarily after nine students were found positive with the virus on Saturday. The school's management said the school is closed for seven days.
Meanwhile in Hanoi, students of primary and high schools are set to gather Aug. 17 to prepare for a new school year. The schools have taken measures to prevent the fatal disease.
So far, five schools in the capital have reported students with A/H1N1 flu.