Hospitals in the northern and the central are reporting an increase in the number of children and senior people being diagnosed with heatstroke, respiratory illnesses and acute diarrhea due to the recent surge in temperatures.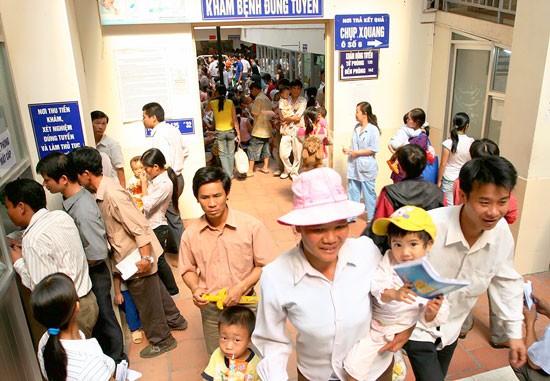 Many children get sickness due to hot weather (Photo: SGGP)
In these days, the temperature reaches 38-39 Celsius degree. Elderly people, infants and children and people with chronic medical conditions are more prone to heat stress.

Though it is mid noon, the Central Children Hospital in Hanoi was crowded with patients on May 6. As per the hospital's statistic, lately it has received over 1,500 children a day, an increase of 20 percent compared to usual day.

The situation is similar in other hospitals including Saint Paul, Bach Mai, Thanh Nhan and even in hospitals in northern provinces of Ninh Binh, Thanh Hoa and the central province of Nghe An. Saint Paul's doctors said that since the beginning of the week, it received nearly 500 kids per day.
Some of them are in serious condition and they were hospitalized immediately. Most of kids have ailments relating to respiratory problems, pneumonia and acute diarrhea.

Dr. Nguyen Tien Dung, head of Hanoi-based Bach Mai Hospital's Pediatric Ward, said that the hot weather weakened the resistance of children hence dangerous virus and bacteria can easily enter their body to cause disease.
Doctors advised parents to protect their children from diseases by keeping children's personal hygiene carefully, safe diet. Parents should not take their children from cold environment to a very hot environment or vice versa. 

Not only children but more elderly patients are also flooding in the hospitals as a result of the scorching weather. A spate of elderly patients has been rushed to hospitals Bach Mai, Saint Paul and the Hospital for senior people. The hospital for senior people receives over 300 elderly people a day due to high blood pressure, heart diseases, diabetes and Cerebrovascular accident.

In addition, Dr. Nguyen Tri Dung, director of the Preventive Medicine Center in Ho Chi Minh City, said the city has 3,757 cases of dengue fever and in April alone it was 496 cases, a decrease of 35 percent compared to March, 2015. however, in the first three months of the year, there was a resurgence of chicken pox and mumps in preschools and primary schools.
These diseases are under the control and no more cases have been reported. The city recorded 631 hand-foot-mouth cases  in April, an increase of 14 percent compared to March. It is normal as this time is the peak of the disease. Since the beginning of the year, the city had has 2,139 cases of hand-foot-mouth.