Swine flu has been discovered in fifty schools nationwide, with the total number of students infected with A/H1N1 now standing at 400, the National Steering Committee for A/H1N1 Prevention said September 1.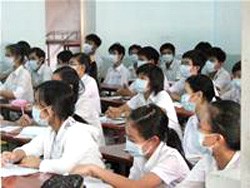 Students at a school in HCMC wear face masks to prevent A/H1N1 (Photo: Tien Phong)
At the committee's meeting, the deputy minister of Health, Trinh Quan Huan, stressed that the number of people infected with A/H1N1 in Vietnam will reach its peak in the next few months.
Local authorities should strengthen methods to supervise the epidemic, especially HCMC, Hanoi, Khanh Hoa Province and other areas with high numbers of A/H1N1 patients to prevent the epidemic from spreading to other provinces, he said.
The same day, the Ministry of Health announced that Vietnam had 138 more cases of A/H1N1, taking the tally to 2,931 with two deaths.
HCM City's neighboring province of Binh Duong has 67 cases, with 22 new cases being students in the province and from HCMC.
The province's Department of Health said that Thu Dau Mot town has 17 people with A/H1N1, the highest number in the province. Most of them are students at schools in HCMC, nine have been released from hospital and eight are still in isolation.
Di An District followed with 26 cases, five are still in isolation.
The education section of My Tho city, in the Mekong Delta province of Tien Giang, said that the city has 21 students who tested positive with A/H1N1.
Fifteen are from Thien Ho Duong primary school and six from Nguyen Trai primary school.
A further 400 students with high body temperatures and coughs are waiting for swine flu test results.
Hundreds of students in the town have not gone to schools because their parents are concerned about the spread of the flu.
Tran Thanh Thao, deputy director of the province's Department of Health, said that the province's Department of Education and Training had decided to close Nguyen Trai primary school for one week because six students had tested positive with A/H1N1.