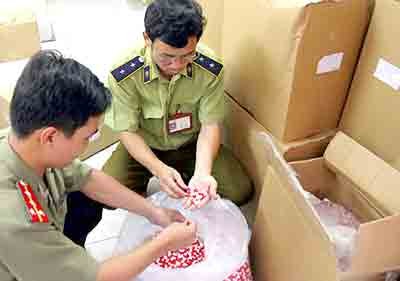 Market management officials check smuggled food supplements
Nutritional food supplements in Vietnam are aggressively being marketed via pyramid selling methods, online, in pharmacies, supermarkets or even grocery stores, irrespective of quality or manufacturing origins.
Police, under the ministry of public security together with the Hanoi market management committee uncovered more than 100 cartons of nutritional supplement foods under various brand names like Glucosamin, Arginin, GinkgoBiloba, supposedly made in USA but in reality produced in the northern province of Hai Duong and distributed by Takeda Vietnam Joint Venture Company at 45 Nguyen Hong Street in Hanoi.
Earlier, the Hanoi police found 3,783 bottles of nutritional supplements in capsule form and 27.5 kilograms of sealed bottles of  Shark Cartilage Complex Blend by All Nature, Liquid Calcium plus Vitamin D3 by All Nature and Super Omega-3, all made in China but incorrectly labeled 'Made in USA', at a warehouse owned by Hoang Gia Medical Company.
Just a few years ago, nutritional supplement foods were mainly imported and distributed through multi-national companies or online. Nowadays, they are readily available in even small grocery stores, but of doubtful origin and quality.
A tour along Lan Ong Street, the herbal medicine street in Hanoi will reveal a variety of nutritional supplements with no clear labels or expiry dates and instructions written in Chinese.
Some have ingredients like cordiceps sinensis, reishi mushroom and red ginseng, none of which have been approved by Vietnamese authorities. On the other hand, some nutritional supplement foods that do have the necessary legal permission are over-advertised as a sort of miracle drug for patients.
Lax Management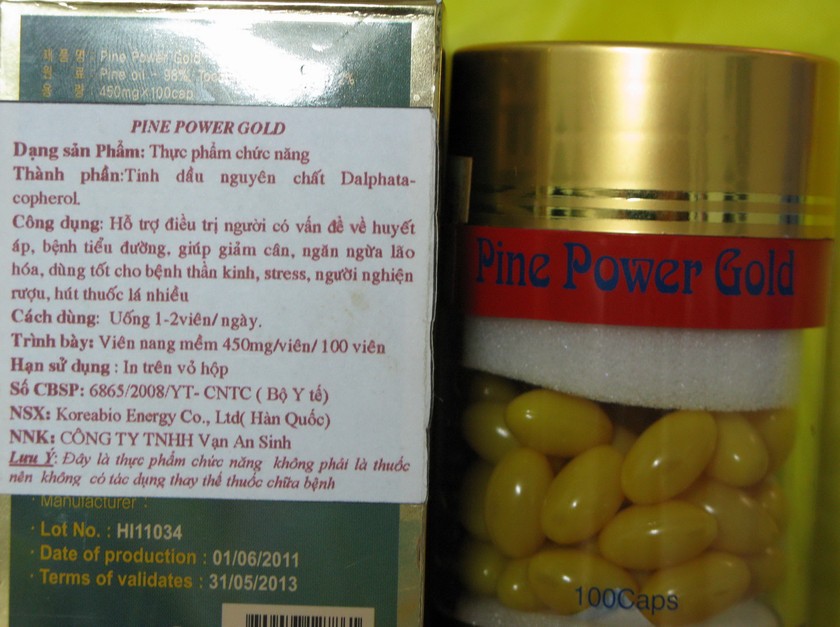 A poor quality functional food sold in market (Photo: U.Phuong)
An official from the Department of Food Hygiene and Safety confirmed that management of nutritional food supplements was not in place. There were no regulations against violations of doubtful origin, over-advertising or other ambiguous marketing programs.
Tran Dang, Director of the Vietnam Association for Dietary Supplements, stated that in 2000 the market had only 33 imported nutritional food items, which were considered a luxury food for the rich. Today there are some 1,600 companies manufacturing and importing more than 4,000 types of nutritional supplement food items, mostly of doubtful origin.
Despite this steady growth in the market, concerned authorities still have not set international standards for nutritional food supplements. Neither is there a quality testing standard for these products in Vietnam such as a process to check mildew and micro-organisms.
Vietnam is said to be one of the fastest growing markets in the Asian-Pacific region. In 2010, profits from nutritional food supplements touched US$160 million.